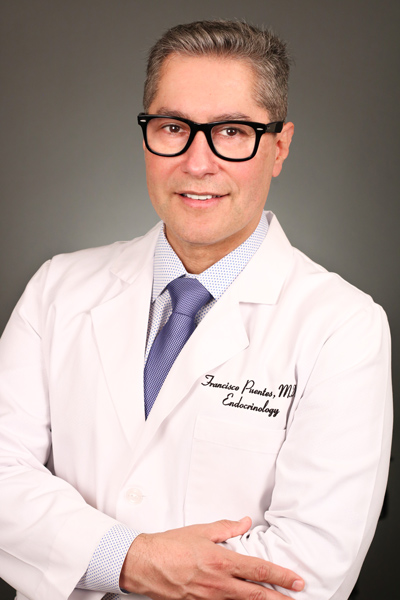 About Dr. Francisco Puentes
Name Francisco Puentes MD., FACE Doctor Puentes was born in Colombia and raised in Venezuela. He studied Medicine at the University of Zulia in Maracaibo Venezuela and graduated as an MD in 1990.
He then trained as an Intern for 2 years in Venezuela and as a Research fellow (Renal Transplant Unit) for 2 more years at University Hospital in Venezuela.
He became an Assistant Professor (Pharmacology and Physiology ) in the School of Medicine at the University of Zulia until 1999.
He was selected to serve as a Treasurer of the Association of Medicine Professors of the University of Zulia for 2 years. Dr. Puentes started his Internal Medicine Residency program in 1994 and completed it in 1997 at the University Hospital, Maracaibo Venezuela.
He also obtained his Doctoral degree in Medical Sciences at the University of Zulia.
In 1999 he decided to move to the United States with his wife and son and started the Internal Medicine Residency Program at the Medical College of Georgia in Augusta GA from 1999 until 2002. He completed his Endocrinology fellowship in 2004 at the Medical College of Georgia.
He moved to Dalton GA and worked as an Endocrinologist, and since 2007 he worked as an Endocrinologist in Marietta GA at WellStar Health System. He opened his own private practice, Endocrine Specialists of Georgia, in Cartersville GA in August 2020 and will be opening his new office in Atlanta GA in 2024.
He enjoys spending time with his 2 sons and dancing with his wife in his free time. Doctor Puentes is Board Certified in Endocrinology and Metabolism and is fluent in English and Spanish.
SPECIALIZATION
Endocrinology, Diabetes & Metabolism Internal Medicine
CONDITIONS TREATED
Testosterone deficiency (Hypogonadism)
Obesity
Hypothyroidism
Hyperthyroidism
Non-Toxic Goiter
Diabetes Mellitus Complicating Pregnancy
Diabetes Mellitus (DM)
Ovarian Dysfunction
Thyroid Cancer
Prolactin disorders
Calcium disorders
Gynecomastia
Osteoporosis
Addison's disease
Hyperparathyroidism
Vitamin D deficiency
EDUCATION AND TRAINING
Georgia Regents University / MCG, Endocrinology Fellowship — 2004
Medical College Of Georgia, Internal Medicine Residency Program — 2002
University Hospital, Maracaibo, Venezuela, Internal Medicine Residency Program — 1997
University Hospital-Research Fellowship, Other Education — 1993
Hospital Adolfo Pons, Maracaibo, Venezuela, Internship — 1992
Univ Del Zulia, Esc De Med, Maracaibo, Venezuela, Medical School — 1990
For more information or to schedule an appointment please call or Contact UsEndocrine Specialists of Georgia LLC for Cartersville GA & Metro Atlanta Area.